L'Auberge Chez François 2nd Annual Alsatian Octoberfest Six-Course Musical Dinner Experience Featuring Award-Winning Accordionist Frank Busso


October 17, 2021




4:00 pm - 9:00 pm
La Grand Tente Terrace, Very Limited Seating
Celebrate fall, nature's grand finale, with our second lively Alsatian Octoberfest on Sunday, October 17th,  at 4:00pm, filled with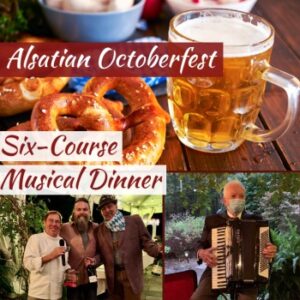 sumptuous libations, delectable food, live music and merriment, hosted by Chef Jacques' Haeringer and Team.
Our Alsatian Octoberfest Experience will be offered on our garden terrace covered 40ft x 55ft tent. Complete with plenty of room for social distancing, six high speed fans, cafe bistro lighting and pastoral views of our 6 acres, two on-site gardens, koi pond, blooming flowers, our "Grande Tente" will be the perfect place for a lively and uplifting Octoberfest celebration.
Our neighbors at Nordic Knot in Reston will help provide a delicious addition to our Cours de Pain (Bread Course) with handmade pretzels with all natural and organic ingredients, hand-milled grains, mustard and of course, our famous Alsatian Bibeleskais with House-made Garlic Bread, Assorted Breads and local Butter.
Continue our evening's festive experience featuring Chef's Jacques' Traditional Six-Course Menu, featuring delectable classics from our French-Alsatian heritage, Papa's homeland, bordering Germany. Continuous libations, including crisp Alsatian white and Austrian red wine, as well a selection of our very own Papa's Pilsner craft beer and the Virginia debut of delicious craft beer from Silver Branch Brewing Company in Silver Spring, Maryland.
Silver Branch Brewing Company co-owner Brett Robison and Winter Dog Cellars owner and Great Falls neighbor Brian Hennighausen will be on hand to discuss the our beer lineup, the traditions and history behind Octoberfest, and to assist Chef Jacques in the all-important tapping of the ceremonial keg!
O'zapft is, und Prost!!
What would Octoberfest be without festive German and Alsatian music, you ask? We are very much honored to present to you, in traditional Octoberfest style, the award-winning accordionist, Frank Busso, for our lively fall experience.
As a competitive accordionist, Busso's received numerous regional titles from the Accordion Teachers Association of New Jersey, including the organization's virtuoso championship in 1995. He also earned multiple national titles from the American Accordionists' Association in classical, popular, and ethnic competitions. Since 2001, Busso has performed in concert as a member of The Busso Trio at numerous summer festivals hosted by the American Accordionists' Association and the Accordionists & Teachers Guild.
Add to our Octoberfest Experience evening, fun raffles and culinary prizes, and awards for the "best dressed" Ladies and Gentlemen who come in their finest lederhosen and dirndls, and you have one very special L'Auberge Chez Francois Alsatian Oktoberfest not to be missed! Prost and Cheers!
Our first Octoberfest last year sold out in 24 hours! Please sign up early to reserve your table. Very limited seating
Continuous Octoberfest Experience Libations Served Include:
Joseph Cattin, Pinot Blanc 2018 Alsace
Steindorfer, Apetlon Rouge 2019 Austria
Oktoberfest Lager by Local Award-Winning Silver Branch Brewing Company and
Our Very Own Papa's Pilsner Beer Crafted by Local Award-Winning Lost Rhino Brewery
OCTOBERFEST CELEBRATION MENU
Cours de Pain – (Bread Course) Nordic Knot's Handmade Pretzel, Multigrain Mustard Alsatian Bibeleskais with our House-made Garlic Bread, Assorted Breads and Local Butter
Appetizer (Choice of One)
Papa's Soupe à l'Oignon Gratinée
Papa's Onion Soup
-or-
Chef Jacques' Traditional Alsatian Tarte Flambée
Caramelized Onions and Nueske's Applewood Smoked Bacon
Salad
La Salade de l'Auberge
Organic Mesclun Salad, Garden Crudités, Vinaigrette Maison
Seasonal Sorbet
Entree (Choice of One)
La Choucroute – Traditional Alsatian Sauerkraut, Whiffletree Farms Bratwurst Pork, Assorted Sausages, Housemade Duck Confit, Sauerkraut
-or-
La Choucroute – Alsatian Seafood Sauerkraut, Halibut, Salmon, Smoked Salmon and Trout, Sauerkraut
-or
Classic Creekstone Farms Natural Beef Bourguignon, Cabernet Wine Sauce, Organic Roasted Vegetables
Dessert
Chef Pascal's Gâteau Forêt Noire (Black Forest Cake)
Locally Roasted Coffee, Selection of Harney & Sons Teas
Event Price: $155.00 (excluding tax and gratuities); for a total of $197.00 per person.
Tickets non-refundable. We are happy to accommodate guests' dietary concerns, so all may join the festivities.
Please email chezlauberge@aol.com or call 703-759-3800 with special requests
Patrons will have an opportunity to purchase these wines at a very special Octoberfest price.
We're sorry, but all tickets sales have ended because the event is expired.