L'Auberge Chez François' 45th Anniversary Celebration Dinner Experience


April 18, 2021




6:00 pm - 9:00 pm
Very Limited Exclusive Seating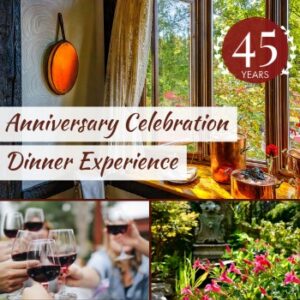 Please join Chef Jacques, Paul Haeringer and the team at L'Auberge Chez François on Sunday, April 18th, 2021 at 6:00pm as we celebrate our 45th anniversary in Great Falls, Virginia, and 67 years in the D.C. Metro Area.  Chef Jacques kicks off our celebratory experience with a grand toast to Papa and Mama. 
Our anniversary culinary event promises to be filled with very special anecdotes, history, and lore of Papa and Mama's move to the "country" to open their dream "L'Auberge" on April 20th, 1976. Enjoy Chef Jacques' specially chosen five-course classic family favorite's degustation menu with Papa's beloved French wine pairings selected by Paul Haeringer.
It was François "Papa" Haeringer who opened the restaurant on April 20th, 1976 in Great Falls. After losing the space his original French restaurant in Washington D.C., Monsieur François looked around for a bucolic setting to open a new restaurant. He wanted its design to be quintessentially French country and reflect his Alsatian roots. He chose six acres off Springvale Road that used to house a car repair shop, a deli and a gun shop. The small commercial tracts development was personally overseen by Monsieur François to create the cottage style, exposed timber restaurant that still sits on the property. His goal was to operate a restaurant with "a nice ambiance and good honest food." The restaurant's enduring popularity is a testimony to his success with this approach.
Our 45th Anniversary Dinner Experience will be presented in our beautiful garden room which boasts a fireplace, large windows, 15-foot ceilings and a sweeping views of our organic vegetable gardens and terraces. We are accommodating you for social distancing and are offering the perfect setting for an intimate, relaxing, and delicious themed repast.
It is our hope that you will help us celebrate this momentous occasion. Joyeux anniversaire!
45TH ANNNIVERSARY DINNER MENU
Chef's Assorted Seasonal Canapés
Kuentz-Bas Crémant d'Alsace 
Filet of Lemon Sole, Garden Chive Sauce
Régis Minet, Pouilly-Fumé
Alaskan Halibut, Julienne Legumes, Pinot Blanc Velouté
Meyer-Fonné, Pinot Blanc
Creekstone Farms Natural Filet Mignon, Morel Mushrooms, Wilted Garden Greens, Bordelaise Sauce
Château Marjosse, Bordeaux 
L'Auberge Chez François' Famous Warm Chocolate Tarte
Locally-Roasted Coffee, Selection of Harney & Sons Fine Teas
Event Price: $160.00 (excluding tax and gratuity); for a total of $202.00 per person.
Tickets non-refundable. Patrons will be able to purchase this evening's wines at a very special price.
We are happy to adjust the menu to accommodate guests' dietary restrictions, please email chezlauberge@aol.com with special requests. 
Details
Price
Qty
Table for Two - Anniversary Dinner
$404.00

(USD)

Sold Out

Table for Four - Anniversary Dinner
$808.00

(USD)

Sold Out
"L'Auberge Chez François' 45th Anniversary Celebration Dinner Experience" is currently sold out.
Please check back again later, as spots may become available.