L'Auberge Chez Francois "Goes Italian" Al Fresco Six-Course Sommelier Wine Tasting & Dinner Experience


August 5, 2021




6:00 pm - 9:00 pm
Le Grande Tent Terrace – Very Limited Exclusive Seating
Chef Jacques asks, "Do they make wine in Italy?" Indeed they do, and some of the finest in the world, too (at least outside of France). So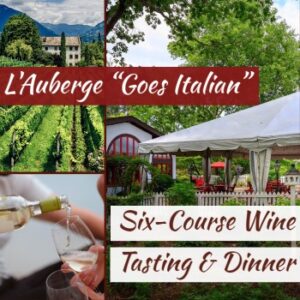 please join us Thursday, August 5th, at 6:00pm for a delectable tasting and scrumptious dinner experience featuring wines from two of Italy's most celebrated wine regions, Tuscany and the Piedmont.
Our sommelier, Alex Bardsley, will lead a pre-dinner tasting, which will consist of two flights of two wines each. The first flight will include a Barbaresco and a Barolo, and the second flight will showcase two Brunello di Montalcino. Dinner will be accompanied by two more wines, one from each region. Chef Jacques and team will offer a feast evoking two of the most beautiful regions in Europe (once again, outside of France!)
Our very special wine dinner is offered on our covered garden terrace 40ft x 55ft tent, complete with plenty of room for generous distancing, six cooling fans, cafe bistro lighting and pastoral views of our 6 acres, two on-site gardens, koi pond and blooming flowers.
Our "Grande Tente" will be the perfect place for a relaxing Chef's Jacques' delectable six course Italian-themed repast, exquisite wines from two of Italy's best regions.  Always good fun between the French and Italians as L'Auberge Chez Francois "Goes Italian"!  See you there-reminder to sign up early, as seating is very limited.
Plated Seasonal Hors d'Oeuvres
Greeter Italian Wine
First Flight: Two from the Piedmont, Italy
Luigi Giordano, Barbaresco "Cavanna" 2015
Oddero, Barolo "Villero" 2015
Second Flight: Two from Tuscany, Italy
Collosorbo, Brunello di Montalcino 2012
Voliero, Brunello di Montalcino "Casato" 2013
"A Taste of Italy" Six Course Tasting & Dinner Menu Experience
Cours de Pain
Harvest Multigrain & Sourdough Rolls, Local Butter
Second Course
Wild Alaskan Salmon with Saffron and Tomato Coulis
Sella, Coste della Sesia "Orbello" 2016, Piemonte
Third Course
Chef's Garden Tomato Salad, House made Vinegrette
Seasonal Sorbet Palate Cleanser 
Main Fifth Course
Marcho Farms Classic Osso Bucco with Garlic Flan, Braised Garden Kale
Voliero, Rosso di Montalcino 2016
Dessert Sixth Course
Classic Tiramisu 
Locally Roasted Coffee & Assortment of Harney & Sons Fine Teas
Event Price: $175.00, Including Tax & Gratuity for a total of $224.00 per person
Tickets are non-refundable. We are happy to accommodate guests' dietary concerns, so all may join the festivities.
Please email chezlauberge@aol.com or call 703-759-3800 with special requests.
Patrons will have an opportunity to purchase these exceptional wines at a very special price this evening.