December 7, 2018




7:30 pm - 10:00 pm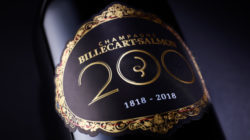 Friday, December 7, 2018 7:30 PM
Please join us Friday December 7th, 2018 at 7:30 PM, for what promises to be an extraordinary all-Champagne Holiday Soirée, celebrating Maison Billecart-Salmon's 200 year anniversary.  Billecart's French Ambassador, Clement Calleja, will share his passion for these luscious bubbles with us on this festive evening.
Billecart-Salmon was founded in 1818 by Nicolas François Billecart and his spouse, Elisabeth Salmon.  Billecart-Salmon offers distinctive and elegant champagnes from one of the few remaining family owned and operated Champagne houses left in France.
For over 7 generations, each member of the family has endeavored to continue the family tradition, staying faithful to the same motto: "Give priority to quality, strive for excellence".
Join us for a sparkling Champagne Reception, in our beautiful Garden Room, surrounded by our twinkling lights and Holiday decorations. Continue onto Chef Jacques' multi course menu, paired to match the unique flavors of the Billecart-Salmon Champagnes; a very festive holiday soirée not to be missed.  Joyeux 200th Anniversaire et Joyeuses Fêtes!
Champagne Reception
Seasonal Hors d'oeuvres and Holiday Canapes
Billecart-Salmon, Champagne Brut Reserve
Billecart-Salmon 200th Anniversary Holiday Soiree Menu:
Maine Lobster Poached in an Aromatic Lobster Broth
Billecart-Salmon, Champagne Extra Brut
Nantucket Bay Scallops and Shitake Mushroom Gratin
Billecart-Salmon, Champagne Brut "Sous Bois"
Champagne Sorbet
Le Saumon Souffle
Filet of Norwegian Salmon, Seabass Mousse, Champagne Osetra Caviar Sauce, Seasonal Vegetables
Billecart-Salmon, Champagne Brut Rosé
Gratin of Fresh Raspberries, Champagne Sabayon
Gilette's Locally-Roasted Coffee, Selection of Harney & Sons Fine Teas
$157.00
excluding tax and gratuity, for a total of $200.00
Tickets non-refundable
We are happy to accommodate guests' dietary concerns, so all may join the festivities.  Please email chezlauberge@aol.com or call 703-759-3800 with special requests