January 25, 2019




7:00 pm - 10:00 pm
Friday January 25, 2019 7:00 PM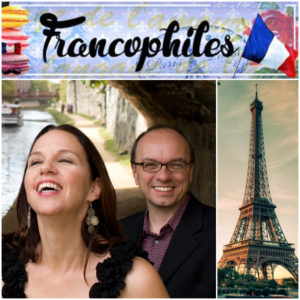 Please join us Friday January 25th at 7:00 PM for a musical filled evening with The Lynn Veronneau Duo.  With awards for Best Jazz Group, Best Jazz Vocals, and Best Jazz Recording it's no surprise that Veronneau captivates audiences in sprawling festivals, concert halls or intimate jazz clubs.
Lynn Veronneau blends Brazilian jazz, French chanson and swing standards with their own original compositions. Based in Washington D.C., Veronneau has performed across the D.C. region, Canada and the UK at Blues Alley, The Kennedy Center, Strathmore AMP and DC Jazz Festival to name a few.
Veronneau's 2018 album Love & Surrender was in the top 5 of the US World Music chart for 4 months straight. Their releases Joie de Vivre and Jazz Samba Project were both featured in the US top 10 charts for World and Jazz music, and have gone on to be successful internet radio hits. Just off successful holiday performances at Blues Alley, the Strathmore and sold out L'Auberge Chez Francois performances, we are thrilled to welcome this dynamic duo to our music and cuisine series.
"The kind of thoughtful artistry one can expect from masters."- Mike West – Washington Post
Celebrate with our "Francophile Friday Night Live" Music and Cuisine special event accompanied with Chef Jacques' delicious food and wine with beautiful French Music performed by this dynamic duo.
Vive la France and Bon Appétit!
Francophile Friday Night Live Menu:
Chef's Amuse Bouche
Côte Mas Crémant de Limoux Brut
Savory Seafood Crêpe, Lobster Cognac Bisque
Domaine de La Denante Bourgogne Chardonnay 2017
L'Auberge Chez Francois Winter Salad
Seasonal Sorbet
Black Pepper Crusted Creekstone Farm Natural Filet Mignon, Truffle Sauce, Roasted Root Vegetables
Château Bellevue Bordeaux Supérieur 2015

Classic Mille-Feuille Tahitian Vanilla Napoléon
Gilette's Locally-Roasted Coffee, Harney & Sons Fine Teas
$110.00
excluding tax and gratuity for a total of $140.00
Tickets non-refundable
We are happy to accommodate guests' dietary concerns, so all may join the festivities.  Please email chezlauberge@aol.com or call 703-759-3800 with special requests
All wines will be available for purchase at a special price for our customers that evening.  Merci beaucoup and see you there