August 2, 2019




7:30 pm - 10:00 pm
Friday, August 2, 2019 at 7:30 PM
They are BACK!  Following numerous sold out performances on "our stage" at L'Auberge Chez François, we are thrilled to present to you, on Friday, August 2nd, 2019 at 7:30 PM, a return of  a "Music and Cuisine Grand Soirée in Great Falls".
Join us center stage with Prince & Efi performing the music of Cole Porter, Rogers and Hart, Fats Waller, Frank Sinatra and Duke Ellington. Dine on a classic French dinner served with sommelier-selected wine pairings while you are entertained by this lively duo. Get your dancing shoes on and join us at this special event!
Musical Showcase Soirée Menu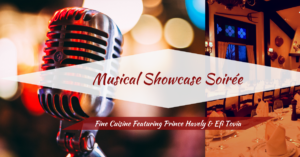 Chef Jacques' Amuse Bouche
Côte Mas Crémant de Limoux Brut
Appetizer
Choice of one:
Garden Gazpacho with Roasted Chanterelle Mushrooms
– or –
Four Cheese Ravioli with Seafood:Carolina Shrimp, Niçoise Olives, Tomatoes, Garden Basil, Peppers
Marrenon Merlot Rosé 2018
Salad
Organic Mesclun Salad, House-Made Vinaigrette
Broadway Citrus Sorbet
Entrée
Choice of one:
Mushroom Crusted Creekstone Farms Natural Filet, Garden Vegetables, Bordelaise Sauce
– or –
Roasted Wild Alaskan Salmon, Garden Haricot Verts, Crispy Leeks, Pinot Noir Sauce
Manoir de Carra Beanjulais-Villages 2017
Dessert
Our Traditional Alsatian Plum Tart with Homemade Cinnamon Ice Cream
Gilette's Locally Roasted Coffee, Selection of Harney & Sons Fine Teas
$105.00
excluding tax and a gratuity for a total of $134.00
Tickets non-refundable
We are happy to accommodate guests' dietary concerns, so all may join the festivities.
Please email chezlauberge@aol.com or call 703-759-3800 with special requests

Patrons will have an opportunity to purchase these wines at a very special price this evening.