Musical Four Course Brunch on the Terrace Experience Featuring the Music of Guitarist John Sweet


May 15, 2022




11:00 am - 1:30 pm
A La Grande Tente Garden Terrace Event – Very Limited Exclusive Seating!
Please join Chef Jacques and Team for a very entertaining and enjoyable musical brunch on Sunday, May 15th at 11am.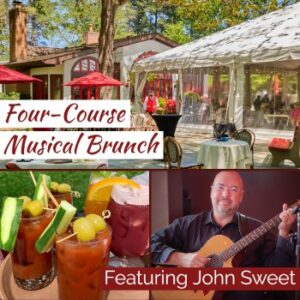 Our Musical Brunch will be offered on our covered garden terrace 40ft x 50ft tent. Complete with six cooling fans, cafe bistro lighting and pastoral views of our 6 acres, two on-site gardens, koi pond, blooming flowers, our "Grande Tent" will be the perfect place for a relaxing and uplifting musical Brunch with Chef's delectable four course repast.
John Sweet, a finger style guitarist, has been performing live for more than 27 years. He is a self-taught entertainer who creates his own instrumental arrangements of familiar songs presented in a new way on his guitar. From the East Room of The White House to the Virginia Beach Oceanfront, John plays venues up and down the East Coast.
John's repertoire includes music from the last few decades so there is always something for everyone. His style brings an ambience that allows you to enjoy and guess the song being played or continue with your conversation. Songs by Sinatra, Dillon, Elvis, The Beetles, Fleetwood Mac, Sting, U2, Ed Sheeran, Zac Brown Band, Jimmy Buffet, Simon & Garfunkel and Shania Twain are just a few of the artists whose music you will hear this evening.
We look forward to seeing you, and wining and dining and listening to the tunes of John Sweet!
MUSICAL BRUNCH MENU
Corbeille de Pain (Bread Basket)
Assorted Breads and Chef Pascale's House-Made Croissant, Local Butter
Crémant d'Alsace, Mimosas, Bloody Marys, Papa's Pilsner
APPETIZER
Mushroom Velouté Soup
ENTRÉE – Choice of One:
Creekstone Farms Natural Filet Mignon Benedict 2 Organic Poached Eggs, Béarnaise Sauce, Roasted Potatoes, Seasonal Vegetables
-or-
Three Organic Egg Maine Lobster Omelet, Crème Fraîche, Roasted Potatoes, Seasonal Vegetables
DESSERT
Chef Jacques' Crêpe Suzette – Orange Crêpes, Caramelized Oranges, Grand Marnier Syrup
Julius Meinl Coffee and a selection of Haney's Fine Teas
Event Price: $90.00 (excluding tax and gratuity), for a total of $115.00 per person.
We are happy to adjust the menu to accommodate guests' dietary restrictions. Should you have alternative requests, please email chezlauberge@aol.com or call 703-759-3800
Tickets are non-refundable.