February 8, 2020




11:00 am - 2:00 pm
Saturday February 8th, 2020 11am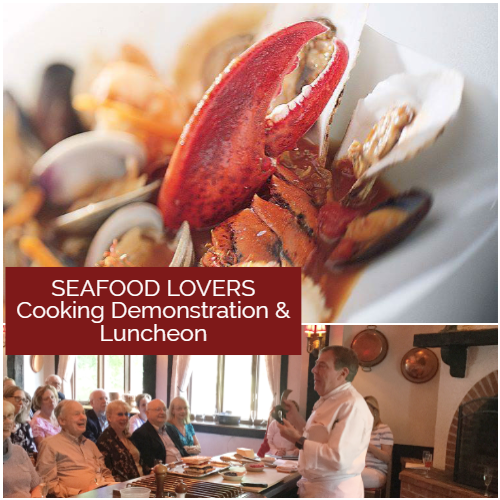 The pleasures of the table, fine food and wine are an essential part of a passionate life.
Please join us on Saturday, February 8th at 11:00am for Chef Jacques' Seafood Lovers Cooking Demonstration and Luncheon.
Raymond Oliver, author of Gastronomy of France said, "The reason that bouillabaisse has a world reputation is because it is an aphrodisiac". The afternoon's menu includes my papa's classic bouillabaisse, truffled Maine lobster, and a chocolate and passion fruit mousse cake.
Romantic celebrations are a tradition at L'Auberge Chez François, and what a better way to celebrate Valentine's Day!
MENU
To Sip During Chef Jacques' Cooking Demonstration
Simmonet Febvre Cremant de Bourgogne Brut
Papa's Classic Bouillabaisse  – Scallops, Shrimp, Mussels and Rockfish Medley in Saffron Broth
Campuget Costieres de Nimes Rose 2018
Organic Mesclun Salad, Vinaigrette Maison
Blood Orange Sorbet
Truffled Mousseline of Maine Lobster, Bibb Lettuce Fondue, Lobster Cognac Bisque
Jean-Luc Colombo Cotes du Rhone Blanc 2016
L'Auberge Chez Francois' Grand Marnier Souffle, Grand Marnier Sauce
Gilette's Locally-Roasted Coffee, Harney & Sons Fine Teas
Event Price: $118.00 excluding tax and gratuity; for a total of $150.00
Tickets non-refundable.
We are happy to accommodate guests' dietary concerns, so all may join the festivities. Please email chezlauberge@aol.com or call 703-759-3800 with special requests.

Patrons will have an opportunity to purchase these wines at a very special price this afternoon.