March 31, 2019




11:00 am - 2:00 pm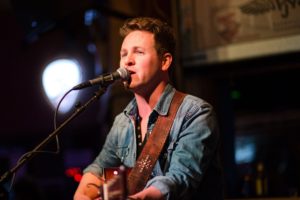 Sunday, March 31, 2019 11:00 AM
Please join us for our Welcome Spring Musical Brunch on Sunday, March 31st, 2019 at 11:00 AM as we feature the talented Shane Gamble with his third popular performance at L'Auberge Chez François.
A Maryland native, Gamble embodies what it means to be a working musician. Shane attacks his guitar with passion and sings jangly songs about the good times with a distinctly American feel. Close your eyes and imagine if Tom Petty or Bruce Springsteen were to emerge now on Country radio, then added a modern twist… that's Shane.
Shane enjoyed the success of his debut album and the Top 10 single, "Turn My Way," a pop/country tune that is equal parts punchy and poignant. Shane has been able to crash the party as an independent artist, garner new fans across the globe, and make a splash in the music industry crowd. We hope that you join us as we welcome the talented Shane Gamble, and enjoy a delectable brunch menu by Chef Jacques' complete with brunch libations.  Here's to our musical Sundays!
Assorted Breads and Housemade Croissants, Local Butter
Crémant d'Alsace, Housemade Bloody Marys, Mimosas
APPETIZER:
Choice of One:
Millefeuille of Potato and Smoked Salmon
-or-
 Spring Citrus Salad
ENTRÉE:
Choice of one:
House-Made Caramelized Onion Ravioli, Soubise Sauce, Seasonal Vegetable Medley
-or-
Alsatian Style Asparagus and Virginia Ham Benedict, Two Poached Organic Eggs, Capers, Hollandaise Sauce, Roasted Potatoes, Seasonal Vegetables
-or-
Creekstone Farms Filet Mignon Benedict, Two Poached Organic Eggs, Béarnaise Sauce,
Roasted Potatoes, Seasonal Vegetables
DESSERT:
Meringue Glacée
Vanilla and Chocolate Ice Creams, Meringue, Raspberry Coulis
Gilette's Locally-Roasted Coffee, Selection of Harney & Sons Fine Teas
$60.00
excluding tax and gratuity for a total of $76.00
Tickets non-refundable
We are happy to accommodate guests' dietary concerns, so all may join the festivities.  Please email chezlauberge@aol.com or call 703-759-3800 with special requests