March 23, 2019




11:00 am - 2:00 pm
 Saturday March 23, 2019 11:00 AM
 We are excited to announce the continuation of our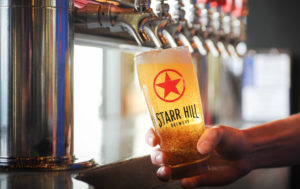 popular craft beer events on Saturday March 23rd at 11:00 AM, with Virginia's own award-winning Star Hill Brewery to whet your appetite. Born in a Charlottesville music hall in 1999, Starr Hill Brewery was founded out of a passion for great beer and live music.
Among the most award-winning craft breweries on the East Coast, Starr Hill has won 22 Great American Beer Festival, World Beer Cup and Great British Beer Festival medals. As the second oldest craft brewery in Virginia, Starr Hill has led the way as a pioneer in the industry, helping to lay the groundwork for the growing craft beer community in the region. Starr Hill Brewery still remains independent and locally owned.
This special event includes a lively cooking demonstration with Chef Jacques, followed by a luncheon and the craft beer pairings of Starr Hill.
Robbie O'Cain, Master Brewer at Starr Hill, who graduated at the top of his class at the World Brewing Academy Master Brewing program, will be here to present and discuss the Star Hill Brewery, its history, awards and of course, all our beer pairings this afternoon.  Our guests will have the opportunity to purchase these delectable craft beers at a very special trade price this day only, and a chance to win some fun Starr Hill swag!
Cooking Demonstration
Starr Hill "Front Row Golden Ale"
 Starr Hill Craft Brewery Cooking Luncheon Menu:
 Brasserie's Applewood Smoked Bacon and Cheese Tarte Flambée
Starr Hill "The Looking Glass" IPA
Grilled Carolina Shrimp, First of the Season Garden Spinach, Herb House-made Vinaigrette
Starr Hill "The Love Wheat Beer"
Braised "Northern Lights" IPA Short Ribs, Garden Herb Späetzles Root Vegetable Puree
Starr Hill "Northern Lights" IPA
Layered Valrhona Chocolate and Espresso Symphony Gâteau
Starr Hill "Little Red RooStarr Coffee Cream Stout" 
Gilette's Locally-Roasted Coffee, Selection of Harney & Sons Fine Teas
 $78.00
excluding tax and gratuity for a total of $99.00
 Tickets non-refundable
We are happy to accommodate guests' dietary concerns, so all may join the festivities.  Please email chezlauberge@aol.com or call 703-759-3800 with special requests
Patrons will have an opportunity to purchase these craft beers at a very special price this afternoon.