September 29, 2019




4:00 pm - 6:00 pm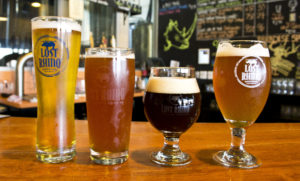 Please join us Sunday September 29, 2019 from 4:00PM – 6:00PM for a lively Craft Beer Party featuring the award winning beers of our own Ashburn's Lost Rhino Brewing Company.  This month also marks the 65th anniversary of Francois Haeringer's founding of Chez Francois in downtown D.C.  We will be featuring many of Lost Rhino's line up, including our newest beer crafted by Lost Rhino,"Papa's Pilsner" in honor of Papa Haeringer, our 65th anniversary and his love of beer.
Enjoy specially paired seasonal canapés, appetizers, and bites as you stroll around the terrace and gardens listening to live music and sipping cold craft beer. Lost Rhino brewers will be on-hand to guide you through the tastings of these delectable beers.
Lost Rhino's founder, Matt Hagerman, wanted to start his own adventure, and that adventure was Lost Rhino Brewing Company. The adventure began back in 2011, when Loudoun County Virginia was starving for local craft brews.
Old Dominion Brewing Company, which had been in the county since 1989, packed up their operation and left for Delaware, leaving a void in the local community. Matt, having been a brewer at Old Dominion for some years, wanted to pick up where it left off. He purchased some of Old Dominion's brewing equipment, including its 25 barrel brewhouse.
Matt wanted to bring the spirit of craft beer back into the county, and began brewing some of their first beers: New River Pale Ale, Rhino Chasers Pilsner, and Face Plant IPA. Nowadays, Lost Rhino has grown quite a bit since its founding, but they have never lost sight of our love for the craft. In the brew house, they take pride in bringing classic styles and local flavor in all of their beers. We are thrilled to offer you a craft beer party on a crisp Fall evening, tasty bites, live music, in a beautiful setting.  In the event of inclement weather, we will move our party indoors to our Rooster Room.  Let the party and 65th Anniversary begin!
$61.00,
excluding tax and gratuity for a total of $78.00
Tickets non-refundable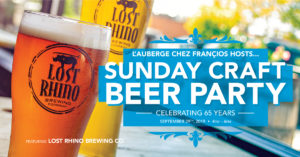 We are happy to accommodate guests' dietary concerns, so all may join the festivities.
Please email chezlauberge@aol.com or call 703-759-3800 with special requests

Patrons will have an opportunity to purchase these beers at a very special price this evening.