October 15, 2019




6:30 pm - 9:30 pm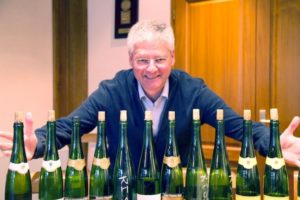 Tuesday, October 15, 2019 at 6:30 PM
Unquestionably one of the greatest names in Alsace, the Trimbach family, based in the picturesque town of Ribeauvillé, has been involved in making wine since 1626 and has, over 13 generations, built an enviable reputation for the quality of its entire range, a benchmark for Alsatian wines.
Please join us on Tuesday, October 15th, 2019 at 6:30 PM as we welcome our special guest and host, Jean Trimbach, representing the 13th generation of the Trimbach family.  We invite you to revel in the history of Papa's Alsace, our homeland, and a beautiful wine region situated amongst the rolling hills and quaint medieval villages of northeastern France, for Chef Jacques' and Jean Trimbach's multi-course "dine and wine" experience, not to be missed.
The Trimbachs have a purist vision.  Across generations, the family has always produced wines that are structured, long-lived, fruity, elegant and balanced: the celebrated Trimbach style. Bottles remain in the cellar for several years before reaching the marketplace, ensuring the wines are both ready to drink upon release but also hold great aging potential.  Merci and see you there!
Chef Jacques' Seasonal Canapes
Trimbach Pinot Blanc 2017
MENU
La Coquille de Crustacés
Shrimp, crabmeat, lobster, scallops, salmon, garden herb remoulade sauce
Trimbach Gewurztraminer 2015
Poached Pike Quenelle with Chanterelles, Julienne of Carrots,
Trimbach Pinot Gris Cream Sauce
Trimbach Pinot Gris "Reserve Personnelle" 2014
Roulades de Sole aux Herbes, Leeks, Spätzle
Filet of Lemon SOLE ROULADES WITH HERBS, Leeks, Spätzle
Trimbach Riesling 2016
Trimbach Riesling Grand Cru "Geisberg" 2013
Le Bettleman Grand-Mère Cécile
My Grandmother's bread pudding with house made Tahitian vanilla sauce
Gilette's Locally Roasted Coffee, Selection of Harney & Sons Fine Teas
$128.00;
excluding tax and gratuity, for a total of $163.00
Tickets non-refundable
We are happy to accommodate guests' dietary concerns, so all may join the festivities.
Please email chezlauberge@aol.com or call 703-759-3800 with special requests
Patrons will have an opportunity to purchase these wines at a very special price this evening.
Jean Trimbach would be happy to sign your Trimbach bottle for you to take home and recreate what promises to be an exceptional evening!