November 2, 2018




7:00 pm - 10:00 pm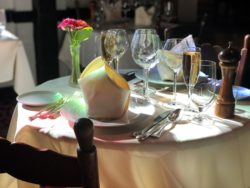 Friday, November 2nd at 7:00 PM

Roses smell fine, candy tastes sweet, but a romantic repast is a much better treat!
Please join us for date night on Friday, November 2nd  at 7:00 PM as we continue our romantic celebrations at L'Auberge Chez François, with our "Two for Tonight"  Romantic Soirée.
As Chef Jacques likes to tell everyone – a natural and wondrous relationship exists between love and food; between the heart and the palate!  No truly passionate life is complete without the pleasures that fine food provides.
Imagine a quiet, candlelit room with the one you love, accompanied by the romantic music of Jarrett Laskey, named as the most requested romance guitarist in the Washington D.C. area on Wedding Wire and The Knot.
Cheers to romance, and we hope to see you and your special someone at our "Two For Tonight" Romantic Soirée.
"Two for Tonight" Romantic Soirée Menu:
Seasonal Canapés for Two
Jean-Marie Lafont Cremant de Bourgogne Brut
Maine Lobster in a Sauterne Butter Sauce
Mt. Beautiful Pinot Gris 2014
Chef's Mesclun and Gruyere Cheese Salad, Herb Maison Vinaigrette
Chateaubriand de L'Auberge,  Seasonal Vegetables, Roasted Potatoes Truffle Sauce
Chateau Barrabaque Canon Fronsac 2015
Warm Valrhona Chocolate Soufflé, Chocolate Sauce
Gilette's Locally-Roasted Coffee, Selection of Harney & Sons Fine Teas
$119.00
excluding taxes and gratuity; for a total of $150.00
 We are happy to accommodate guests' dietary concerns, so all may join the festivities.
Please email chezlauberge@aol.com or call 703-759-3800 with special requests
Patrons will have an opportunity to purchase these wines at a special price