Wines of the Southern Rhône Valley Six-Course Dinner Experience Featuring Selections from Rosenthal Wine Merchant Importers -- with Robert MacFarlane, Potomac Selections


May 20, 2021




6:00 pm - 9:00 pm
Presented in our Garden Room – Very Limited Exclusive Seating
Please join us Thursday, May 20th, 2020 at 6:00pm, for a six-course wine dinner experience showcasing wines of the Southern Rhône Valley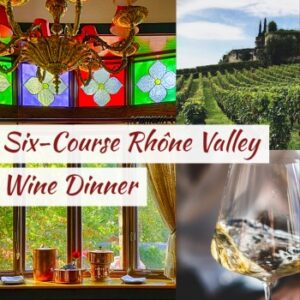 in France, from the collection of the highly regarded Rosenthal Wine Merchant importers.
Robert MacFarlane of Potomac Selections, our highly-regarded colleague of more than 20 years, will be on hand to present these classic wines. The wines of the Southern Rhône are very different from those of the Northern Rhône: riper, rounder, and made from different grape varieties. Robert will guide us on a tour of the region, finishing with perennially favorites, Gigondas and Châteauneuf-du-Pape.
Chef Jacques and team have curated a lavish tasting menu this evening, including local rockfish, delectable duck, and a Classic Black Angus Beef Medallion, and a finale of Chef Pascale's Valrhona Chocolate & Strawberry Gateau. Bravo!
Our highly anticipated Rosenthal French Wine Dinner Experience will be presented in our of our beautiful garden which boasts a fireplace, large windows, 15-foot ceilings and a sweeping view of our organic vegetable gardens. We are accommodating you for social distancing and are offering the perfect setting for an intimate, relaxing, and delicious themed repast. Be transported to one of the greatest wine regions of the world where we will travel with gastronomic finesse!
Viva la Rhone! Viva la France!
Rosenthal Wine Dinner Experience Menu
Meet and Greet the Importer Reception (seated)
1st Course
Chef Jacques Seasonal Canapés
Domaine les Mesclances Cotes de Provence ROSE 'Romane' 2020
2nd Course
Cours de Pain: Harvest Multigrain & Sourdough Rolls, Local Butter
3rd Course
Grilled Local Rockfish with Fennel Fondue, Garden Beurre Blanc Domaine La Manarine Cotes du Rhone BLANC 2020
4th Course
Grilled Maple Farms Duck Breast, Wild Rice, Venise
Rouge Reduction
Domaine de Fenouillet Beaumes de Venise Rouge 'Terres Blanche' 2019
5th Course
Black Olive Tapenade Crusted Creekstone Farms Natural
Black Angus Beef Medallion with Garden Herb Roasted Baby Potatoes, Garden Seasonal Vegetables
Domaine du Gour de Chaule Gigondas "Tradition" 2017 Bois de Boursan Chateauneuf-du-Pape Rouge "Tradition" 2017
6th Course
Chef Pascale's Valrhona Chocolate & Strawberry Gateau, Strawberry Coulis
Locally Roasted Coffee and Assortment of Harney & Sons Fine Teas
Event Price: $170.00
excluding tax and a gratuity for a total of $218.00 per person.
We are happy to adjust the menu to accommodate guests' dietary restrictions. Should you have alternative requests, please email chezlauberge@aol.com or call 703-759-3800. All wines will be available for purchase at a special price for our customers that evening. Merci beaucoup and see you there.