Romantic Wishes from Chef Jacques and Paul
A natural and wondrous relationship exists between love and food; between the heart and palate. Life's memorable moments are not complete without a festive meal. Romantic celebrations are a tradition at L'Auberge Chez François. The ambiance, the presentation, and anticipation of delightful tastes all merge together to help create the complete romantic experience, you just add the magic. We are honored to host your Valentine's Day romantic celebration. The Haeringer family and all the staff at L'Auberge Chez François and Jacques' Brasserie wish you a Happy Valentine's Day.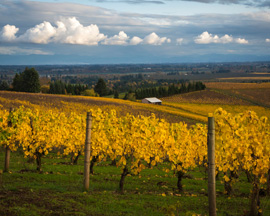 Willamette Valley Wine Dinner
Please join us on Thursday, February 6 at 6:30pm for a special evening tasting wine from the Ponzi Vineyards, one of Oregon's Willamette Valley premier wineries. You'll learn about some of the excellent wines produced in the Valley while tasting the evening's wine selections accompanied by a special five course pairing menu by Chef Jacques. Start with a Lobster Mousseline appetizer accompanied by Chardonnay Reserve, a first course of Peppered Tuna Medallions with Pinot Noir Tavola, and followed by…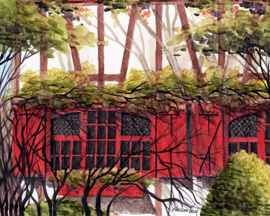 Open Table's Romantic Choice
I am very proud to announce that L'Auberge Chez François has been voted one of the Most Romantic Restaurants by Open Table, the perfect destination for your Valentine celebration. The L'Auberge family is very pleased to once again be voted Best Overall, Best Service, Best Ambiance, Best Food, and Best French Food in the Washington, D.C. area by diners on Open Table. We are thrilled to have come out on top! Thank you to all our Open Table customers and to all our diners for your continued patronage and support.
Gift Certificates


Available in custom amounts.
If you haven't found that perfect Valentine gift for that special someone, consider a Gift Certificate to one of my cooking demonstration luncheons or wine dinners, they are very popular, entertaining and are sure to please. Gift Certificates are also available for lunch, dinner and our Sunday luncheon at L'Auberge and for dinner at Jacques' Brasserie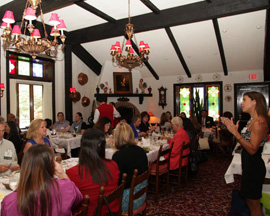 Plan an Event in 2014
Consider L'Auberge Chez François and Jacques' Brasserie for your next special event. Our team of chefs, sommeliers, and servers offer you, your friends and family private luncheon or dinner parties for birthdays, anniversaries, weddings, rehearsal dinners and showers. We can arrange a private room for your next client appreciation celebration, marketing session or corporate event. We will create a custom menu paired with award-winning wines to make your event truly special. chezlauberge@aol.com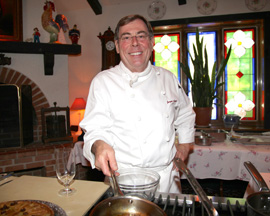 Hosts of Charitable Events 
We would be honored to organize and host your next charitable giving event. We can assist with the planning of your fundraiser with suggestions of a themed dinner, a grand wine pairing or cooking demonstration by Chef Jacques, guaranteed to entertain with his enthusiasm, talent and humorous style. We will support your organization by offering part to benefit the cause as we have done in the past with such organizations as the Komen Foundation, Lukemia Foundation, Wounded Warriers and Kids R First.
The Wildest of Mushrooms
Throughout history, mushrooms have been regarded as food of the gods, and considered an aphrodisiac, perfect for lovers. My featured recipe this month is a Wild Mushroom Napoleon. I use potato crisps instead of the usual puff pastry. A shimmering port wine reduction moistens the Napoleon, enhancing the mushroom flavors. Consider these wild mushrooms in planning the recipe, Morels, Shiitake, Oyster, Chanterelles, Hedgehog, and Chicken of the Woods to name a few.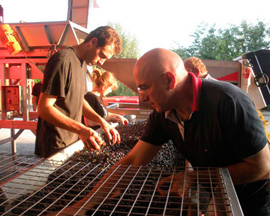 Barbera d'Alba 2010
Our Wild Mushroom Napoleon pairs particularly well with February's Wine of the Month, the G.D. Vajra Barbera d'Alba 2010, This variety offers fresh acidity and low tannins, making it an excellent and flexible savory food wine. It shows a range of expressions, from the bright red cherry of Asti, to the darker, earthy style of Alba, which pairs well with mushrooms or game.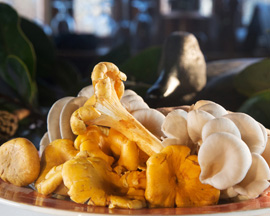 Grower of the Month
Phillips Mushroom Farm is our source for cultivated mushrooms used in many of our recipes. Located in Kennett Square, PA, Phillips is the largest grower of specialty mushrooms in the US, producing 35 million pounds per year, guaranteed to be a constant supplier for us year around. Mushroom are low in calories, have no cholesterol and are virtually free of fat and sodium. 
Monsieur François Compétition
I want to congratulate Perry Z. of Herndon, VA for winning the January Monsieur François' Profile Embellishment Competition. Perry will receive a $200 gift certificate to L'Auberge Chez François.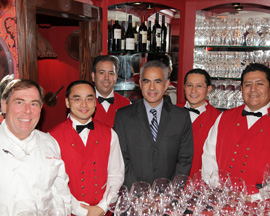 New Happy Hour Menu
Join us for Happy Hour at Jacques' Bar Rouge. We have revised and expanded our offerings on the Happy Hour Menu with more delectable small plates, our sommelier's choice wines, specialty beers, and your favorite cocktails. Try out our new café tables and comfortable bistro chairs. Bar Rouge Happy Hour at Jacques' Brasserie is open Tuesday – Friday 5:00 – 6:30pm, and Sunday 3:00 – 4:30pm.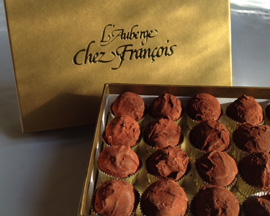 For Love of Chocolate
The combination of chocolate and love is one of life's true pleasures. I suggest our handmade Chocolate Truffles infused with Grand Marnier for your special Valentine. Available for pick up at L'Auberge in half pound or one pound gift boxes. My cookbook and DVD series, "Two for Tonight" is the perfect gift for the love in your life. Learn how to make the perfect meal together at home with my step by step instructions. 
Be sure to follow L'Auberge Chez François on Facebook and Twitter to get updates on our nightly specials, events and recipes!
Join us in 2014 as we celebrate a landmark year, our 60th Anniversary! We will announce special events and festivities throughout the year. We are truly humbled and honored to be a part of your families' celebrations and memories for 60 years.
Happy Valentine's Day!
Chef Jacques
L'Auberge Chez François
332 Springvale Rd Great Falls, VA 22066
Mail Us : chezlauberge@aol.com
Call Us : 703-759-3800
L'Auberge Social


FOLLOW US ON SOCIAL