Holiday Greetings from Chef Jacques and Paul
We want to wish everyone Happy Holidays from all the staff at L'Auberge Chez François and Jacques' Brasserie. Every year at this time we are gratified to see so many of our regular customers who celebrate the holidays with us year after year. Thank you for making us part of your holiday traditions.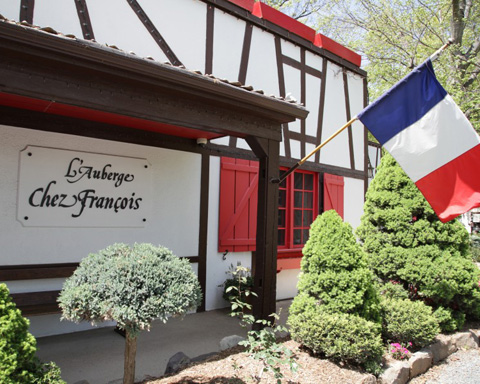 Open Table Diners' Choice
I'm very proud to announce that L'Auberge Chez François was recently voted best overall restaurant in the Washington, D.C. area, as well as the number one special-occasion restaurant, by diners on Open Table. More than 1.5 million people voted in the survey, and we're thrilled to have come out on top. The L'Auberge Chez François family is truly humbled. Thanks to all our Open Table customers and all our diners for your continued support and patronage.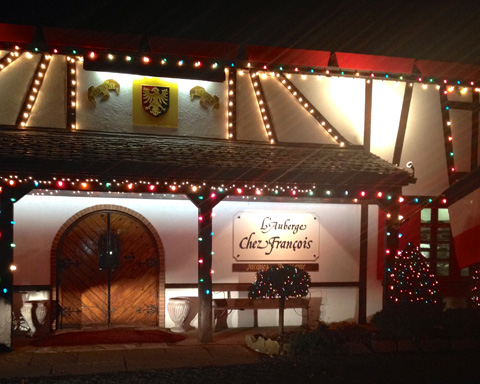 L'Auberge for the Holidays
There are still seats available for our New Year's Eve Gala Dinner on December 31. The gala, for reservations seating between 8:45 to 9:15pm, includes a five-course dinner with special offerings, party favors, music and DJ with dancing, a balloon drop, and—mais oui, but of course—a champagne toast at midnight to bring in the New Year with the L'Auberge Chez François family. If you'd prefer to join us for our traditional dinner, you can reserve for our first seating on New Year's Eve, which seats between 4:30 and 5:30pm.
Gift Certificates


Available in custom amounts.
Available for online purchase. You can now include a personal message on your gift certificate.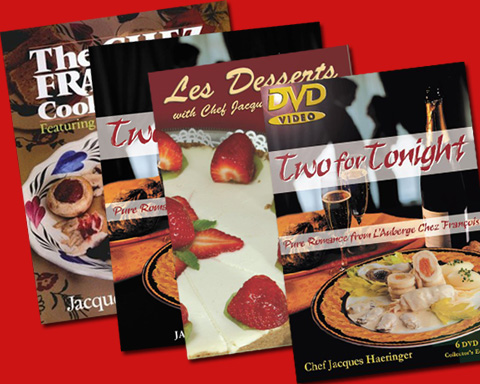 Holiday Gift Ideas
For seasonal gift ideas please visit our online store, where you can purchase copies of my books and DVDs as well as gift certificates to L'Auberge  and Jacques' Brasserie. At the restaurant, we're selling our decadent Chocolate Truffles in half pound and one pound gift boxes. Stop in and pick up a box for your next holiday party or special event.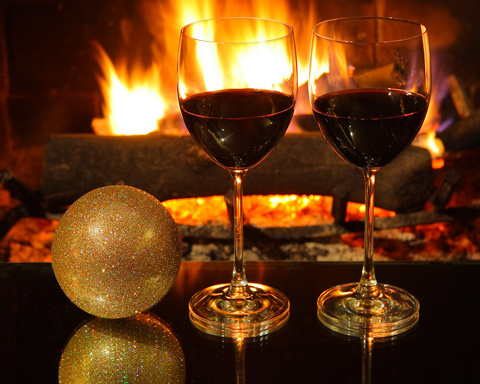 Holiday Cooking Demonstration 
I recommend tickets to my cooking demonstration for the foodie in your life. On Friday December 13, I'm hosting a Romantic  Holiday for Two demonstration featuring Lobster with Sauternes Sauce and a Chocolate Truffle Soufflé. All demonstrations are followed by a complete luncheon with wine pairings.
A Traditional Christmas
It wouldn't be the holidays at L'Auberge without Roasted Goose with Chestnut Stuffing on the menu. This dish is the traditional Christmas dinner in many parts of France, and it will be featured on our menu throughout December. We've been serving Roasted Goose with Chestnut Stuffing during the holidays since the restaurant opened in 1954. Made with pork, veal, and chestnuts, the stuffing is quite rich and has been a favorite of our customers over the years.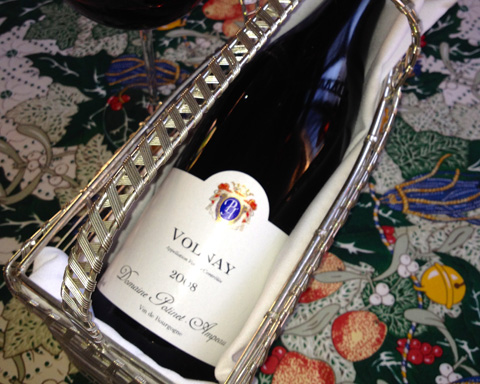 Wine of the Month
Our Roasted Goose with Chestnut Stuffing pairs particularly well with December's Wine of the Month, the Domaine Pontinet-Ampeau 2008 Volney. This aromatic pinot noir from Côte de Beaune in Burgundy has savory, earthy notes and a core of sweet fruit. 
Specialty Cocktails
We've also introduced our winter cocktail menu. My favorite is Le Cidre de Newton, with star anise-infused spirits and apple cider. To cheer up the winter days, sit by our outdoor fire-pit and enjoy a Hot Mulled Wine with accents of orange, lemon, and spices or a warm Allspice-infused Apple Cider.
Monsieur François Compétition
I want to congratulate Tyler A. of Ashburn, VA for winning the November Monsieur François' Profile Embellishment Competition. Tyler will receive a $200 gift certificate to L'Auberge Chez François.
As is my tradition each year, I leave you with my poem, "A Chef's Christmas," written by yours truly. 
Happy New Year and best wishes for 2014.
Chef Jacques
A Chef's Christmas
T'was the night before Christmas, and all through the kitchen

Chefs scurried about while groaning and bitchin'.

The sauces were simmering and seasoned with care,
Because soon the reveling hordes all would be there.

The tables were set, and not a moment too soon;
Both waiters and hosts looked ready to swoon.
Will we ever be ready? It's so hard to tell;

Our chances are as good as a snowball in hell.

The pressure was on. The geese were a-roasting,

As partiers began all their holiday toasting.

With bags full of presents, dressed in festive apparel.

Our guests made such a racket that drowned out the carols.

In the kitchen waiters shouted, while cooks swore through their teeth.

The scene was pure bedlam, not a moment of peace.

The chef, he bellowed, to the cooks on the line,

"Move your derrières, make those plates look sublime." 

"I want everything hot, let us make haste,

Move onward you cooks, there's no time to waste."

The chef looked about, then said with a shrug,
"To all a good supper and a hearty bah humbug!" 
L'Auberge Chez François
332 Springvale Rd Great Falls, VA 22066
Mail Us : chezlauberge@aol.com
Call Us : 703-759-3800
L'Auberge Social


FOLLOW US ON SOCIAL