New Year Greetings from Chef Jacques and Paul
2014 is a landmark year for L'Auberge Chez François, as we will be celebrating our 60th Anniversary. Our father opened the original Chez François restaurant in downtown Washington D.C. in 1954. His plan to offer "nice ambiance and good honest food at affordable prices" caught on and the restaurant was a success. His devoted clientele followed him when he moved the restaurant to Great Falls, Virginia in 1976 and re-opened it as a country inn like those in his native Alsace. We're still family run, with my brother Paul in the front of the house and me in the kitchen, and I'm proud that we've been part of your families' celebrations and memories for 60 years. Paul and I, along with the entire staff, wish you all the best in 2014.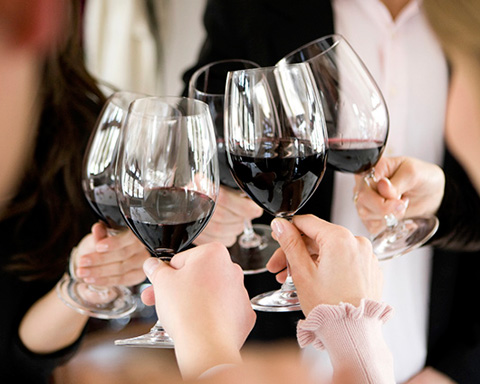 Washington State Wine Dinner 
Please join us on Thursday, January 16, at 6:30pm for a special evening of tasting wines from Chateau Ste. Michelle, perhaps the most notable winery in Washington State. You'll learn about some of the many excellent wines produced in Washington while tasting the evening's wine selections accompanied by a special menu created by Chef Jacques. For a main course, you'll enjoy Lamb Tenderloin au Jus with Chateau Ste. Michelle's Cold Creek 2010 Cabernet Sauvignon.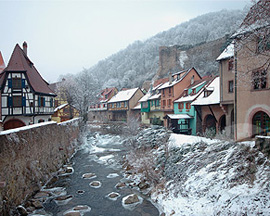 Winter in Alsace Luncheon
On Saturday, January 25, at 11:00am Chef Jacques will be hosting a Winter in Alsace Cooking Demonstration. You'll learn to make classic Alsatian dishes that are perfect for winter dining. The menu includes a Gruyére Cheese Tart, Choucroute Royal Garnie (Alsatian-style Sauerkraut with Sausage and Pork), and the Haeringer family recipe for Kougelhopf with Vanilla Crème Anglaise. After the demonstration, you'll be served a complete lunch accompanied by wine pairings.
60th Anniversary Festivities
We'll be feting our Anniversary throughout 2014 with special events. We'll keep in touch with announcements of Anniversary events on our website, Facebook, Twitter, and our monthly newsletter. Until then, a little bit of history….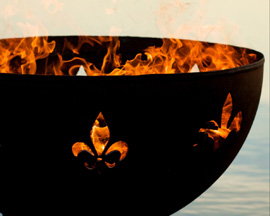 New at Jacques' Brasserie
Come have a warm drink by the fire. Last month we added an outdoor fire pit in a fleur- de-lis design to the terrace at Jacques' Brasserie. Custom made for us by steel sculptor Rick Wittrig www.firepitart.com. The fire pit is open nightly (weather permitting) and we'll be happy to serve you a selection from our winter cocktail menu while you relax around the fire.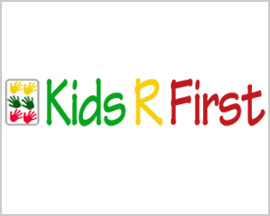 Support "Kids R First"  
On Friday, January 24, at 11:00am, we are delighted to host a Winter Luncheon in support of Kids R First, complete with a cooking demonstration by Chef Jacques, luncheon, wine pairing to compliment menu, tax and gratuity. The cost is $95.00, out of which $25.00 will be donated to Kids R First www.kidsrfirst.org. To reserve your spot for this fun, charitable event contact Ranjana.
A Classic Alsatian Feast
One of our most popular menu items during the cold, winter months is our Choucroute Royal Garnie. Hearty sauerkraut topped with Alsatian-style sausages and pork, the Choucroute Royal Garnie is a delicious and quintessential Alsatian dish (and a family favorite, my daughter orders one almost every time she comes in). I'll be demonstrating how we make our Choucroute at my cooking demonstration on January 25.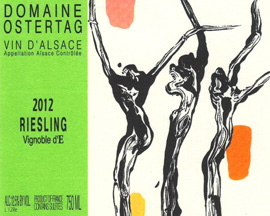 Wine of the Month
To accompany your Choucroute Royal Garnie, our sommelier recommends a bottle of Domaine Ostertag Riesling Vignoble d'E, 2012. Made from hand-picked grapes, this rich and minerally Riesling comes from vineyards around the village of Epfig, France from a producer who is committed to biodynamic wine production.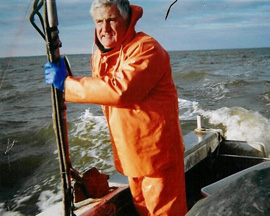 Purveyor of the Month
The January Purveyor of the Month is Fresh Catch Seafood Market in Great Falls, VA. Our kitchen has been working for many years with Al McDonald, our friendly neighborhood fishmonger and fisherman to source seasonal freshwater fish and seafood for many of the dishes we serve at L'Auberge Chez François.
Stop by and see Al and Paul at their market.
Monsieur François Compétition
I want to congratulate Kevin O. of Bethesda, MD for winning the December Monsieur François' Profile Embellishment Competition. Kevin will receive a $200 gift certificate to L'Auberge Chez François.
Be sure to follow L'Auberge Chez François on Facebook and Twitter to get updates on our nightly specials and events. 
2013 has been a terrific year! We look forward to seeing you in the New Year with new dishes, new events and to join us in celebration of our 60th Anniversary throughout 2014. Thank you to all our diners for your continued support and patronage. 
Happy New Year and Best Wishes for 2014.
Chef Jacques
L'Auberge Chez François
332 Springvale Rd Great Falls, VA 22066
Mail Us : chezlauberge@aol.com
Call Us : 703-759-3800
L'Auberge Social


FOLLOW US ON SOCIAL