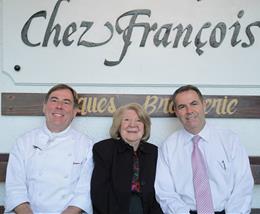 Greetings from Chef Jacques
This month we're celebrating our 40th anniversary of L'Auberge Chez François in Great Falls and we're gearing up for the week of April 18-24 with numerous special events, starting with our Champagne Taittinger Celebration Dinner. We continue the week with a Parisian dinner with music, a cooking demonstration and luncheon, a dinner featuring Chef Jacques favorite dishes and culminating in a dinner on Sunday that is a tribute to Papa Haeringer.  

For all diners during this week, we feature a Special Wine List with superb value pricing to enjoy with your meal, or to purchase and enjoy at home.  Jacques and Company, here from France, will be entertaining all our guests on our actual anniversary on the evening of April 20th, along with a favorite Cremant toast for to honor of my Father and Mother, "pioneers" to Great Falls and our loving founders.  

It was April 20,1976 that we served our first dinner in Great Falls. The plan on opening night was to serve seventy-five people. My father and I planned to do all the cooking while my mother would prepare the pastries. Always generous with his customers, Dad could not say no to the loyal patrons who wanted to be there for the opening and the restaurant ended up way overbooked. After the first seating, there was no food left to serve. Prepared to go out and tell his customers that we were out of almost everything, Dad was saved when a sudden thunderstorm knocked out the power. How could the restaurant serve dinner with no electricity? No one had to know that there was also no food left in the kitchen.  

Since that stormy night in 1976, we've served thousands of customers and I've endeavored to continue my father's dream of a traditional auberge with delicious food and warm service. Thank you to all of our patrons who have made memories with us over the years. It has been a pleasure serving you and here's to many more celebrations with our family at L'Auberge Chez François and Jacques' Brasserie.  
Read More »