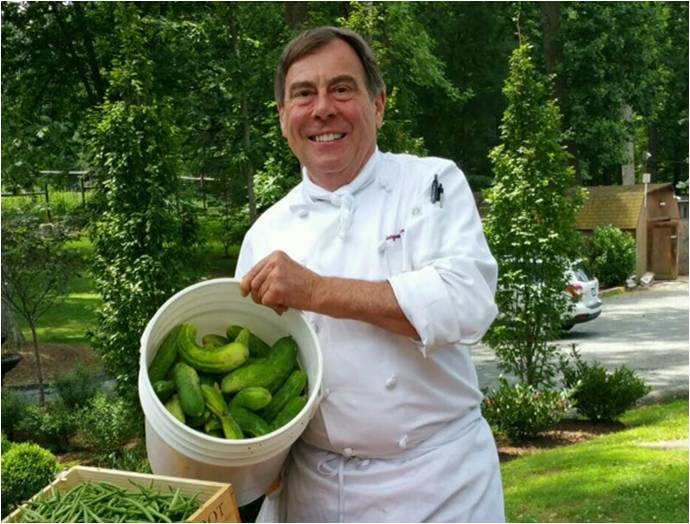 Summer Greetings from Chef Jacques and Paul
In mid-September, I'm leading a group of foodies and wine enthusiasts on a ten-night Rhône River cruise with Tauk River Cruising. The itinerary is packed with cooking lessons, wine tastings, and delicious meals. Tauk just opened up three more cabins to our ever-growing group, so there are now a few spaces available for those interested in joining this culinary adventure. I've just put the finishing touches on the menu for a special dinner I'm hosting in Paris the night before we depart on the cruise. For more cruise details and registration, please click here; registration closes on September 1st. 

The tomatoes in the garden are ripening as fast as we can use them. All of the tomatoes in our tomato salads are coming directly from the garden and we never harvest the tomatoes more than a few hours before they arrive on your table. I've been asked by several diners about my secret for growing such vigorous plants. Here are two tips: First, mix your coffee grounds into the soil. The coffee grounds add minerals and acidity to the soil, which tomatoes love, and the grounds attract beneficial earth worms to aerate the soil and create nutritious compost. Second, when you first put your seedlings into the ground, put ½ teaspoon of Epsom salts around the base of the plant. The salts also add minerals and discourage fungal growth. We have a lot of the booming tomato plants, as well as a video explaining how to make our simple but ever popular tomato salad. A fresh, vine-ripened tomato and a good vinaigrette are key to making a good tomato salad.

We continue to have a full slate of special, summer events here at L'Auberge Chez François. In August we're hosting the next installments of our popular Musique et Cuisine and Garden to Table dinner series, in addition to a wine dinner and cooking demonstration hosted by me. You can view the latest schedule of special events here. Stayed tuned for more events coming this Fall, including a Grand Cru wine series and Latour Wines!
Read More »