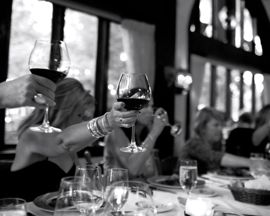 Jacques' Greeting
Continuing our 60th Anniversary celebration, I am hosting a very special Fall Harvest Garden to Table Extravaganza on Monday, October 13 at 6:30 PM.  Due to the overwhelming responses and comments from our diners, I plan to bring the series back in the Spring as soon as our gardens bloom! I am still harvesting plenty of kale, lettuces, greens, haricots verts, cabbages, herbs and other produce from the garden. The Garden to Table Dinner is a special chance for me to create a full menu featuring the very fresh items that come from our gardens while enjoying all the added healthful benefits. You'll find our garden produce proudly featured on our lunch and dinner menus at L'Auberge Chez François and Jacques' Brasserie. 
Our new Fall Cocktail Menu has been introduced!  The cocktails include bourbons, cognac, elderflower, our garden herbs, quince, apples and other delightful ingredients to usher in the Fall season. We have, as well, created three seasonal alcohol-free libations. Don't forget our very own firepit and seating area on the Brasserie terrace is a great way to sample these delectable drinks! 
We are always happy to accommodate the special dietary needs of our customers, so please speak with your server or the receptionist when you make your reservation and we'll be happy to prepare a meal to your specifications. Due to our patrons request, diners at the restaurant will find all gluten free menu items noted with the initials – 
GF.  
Remember, the holiday season is soon upon us and it's never too early to plan for all your holiday parties, happy hours, dinners and special events at L'Auberge Chez François.  
Until next month.  
Read More »