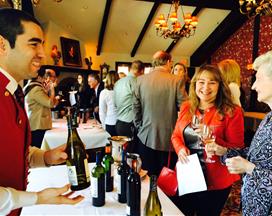 Greetings from Chef Jacques
April was a special month for us since we celebrated L'Auberge Chez François' 40th anniversary. I want to thank everyone who came to one of our special anniversary events in April. It was wonderful for me to see so many of our long-time patrons and friends. We were especially honored to have a few guests attend our anniversary celebration who also dined with us on our very first night in April of 1976.

Almost all the herbs used at the restaurant will come directly from our gardens. We'll be growing basil, chervil, shiso, thyme and mint, to name a few. I'll be adding our fresh herbs to salads and, of course, flavoring our sauces and main dishes with them. And, I'll be faced with the very exciting task of working with our head sommelier to come up with ways to use our fresh herbs in our signature cocktails. Please come by to take a tour of the gardens and enjoy an herbaceous cocktail on the terrace.  

Don't forget the gift of good food and wine for birthdays, graduations, and anniversaries. We have a full calendar of cooking demonstrations and wine dinners scheduled for this spring and summer. 
Read More »