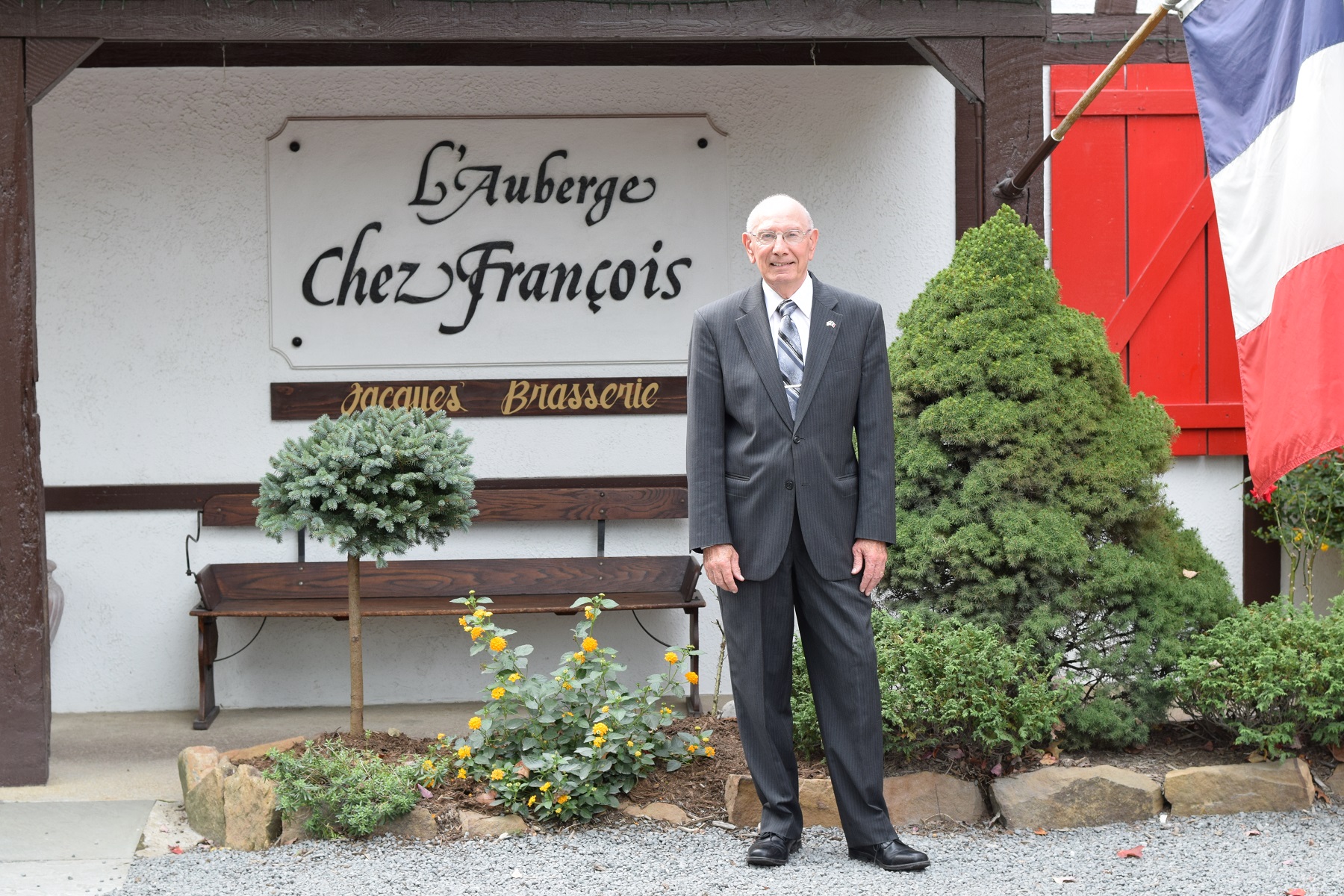 Greetings from Chef Jacques
We've just returned from our 2017 Rhine River Cruise from Amsterdam to Basel and the trip was a terrific success. Many thanks to the 120 patrons who joined us for the sold-out trip. It was a pleasure traveling with all of you to some of the great culinary destinations of the world. For those who didn't make this year's trip, stay tuned at laubergechezfrancois.com for the next trip and all of our special events.

There's plenty going on right here at home too. Our upcoming events include an entertaining night of rock and roll with Steve Lauri of the famed band The Hollies, French artisanal cheese cooking demonstration and luncheon with cheese monger Karen Dee, a musical brunch with pianist extraordinaire Wade Beach, and our always popular Wine Festival and Luncheon.

Did I mention we still have of greens, haricots verts, cabbages, peppers, and other produce coming in from the garden? You'll find our garden produce featured on the regular menus at L'Auberge and Jacques' Brasserie. If you haven't enjoyed our fresh garden produce yet this year, there is still time.

Until next month,
Chef Jacques, Paul, and the team of L'Auberge Chez François
Paul Hobbs Wine Dinner
Please join us Thursday, November 2nd at 6:30pm at L'Auberge Chez François as we host a dinner featuring the wines of famous winemaker Paul Hobbs. Dubbed "the Steve Jobs of Wine" by Forbes, the exacting Hobbs has worked with producers such as Robert Mondavi, Simi Winery and Peter Michael. We will be welcoming Charlie Plummer, National Sales Director for Paul Hobbs, to present a range of stunning wines, including several single-vineyard designates, and Chef Jacques has designed an enticing tasting menu to complement them.
Wine Festival and Luncheon
Our popular Wine Festival and Luncheon returns on Saturday, November 4, 2017. Please join us as we sample twelve wines from Spain, Oregon, Argentina, Virginia, and of course, France. Arrive anytime between 11:30am and 1:00pm for a walk-around tasting of these fine wines paired with Chef Jacques' seasonal canapés. Our sommeliers will be on-hand to guide you through the tasting and answer questions. Following the tasting, sit down and enjoy a complete luncheon of your choice from our four-course menu, paired with another glass of wine.
Musique et Cuisine featuring Steve Lauri of The Hollies
You are cordially invited to a special edition of the Musique et Cuisine series on Sunday, November 12 at 6:00pm. In honor of Chef Jacques' birthday, we will be welcoming back Steve Lauri of The Hollies, his all-time favorite band. To add to the evening's festivities, Chef Jacques will join Lauri on-stage and play the drums, his much-loved hobby. Please join us at L'Auberge Chez François for a dinner, performance, and birthday celebration that you won't want to miss!
Cheese Lovers Cooking Demonstration and Luncheon
Please join us at L'Auberge Chez François on Friday, November 17 at 11:00am for a Cheese Lovers Cooking Demonstration and Luncheon. Cheese Monger from International Gourmet Foods, Karen Dee, will be presenting local and imported cheeses that will be incorporated into some of Chef Jacques' favorite recipes. After the demonstration, enjoy a fromage-inspired four-course luncheon paired with three delectable wines that have been specially selected by our sommelier.
Piano Brunch with Wade Beach
Please join us on Sunday, November 19 at 11:00am for another installment of our Musical Brunch featuring pianist Wade Beach. He entered the world of jazz as a protégé of Sir Roland Hanna and toured the globe many times over with the U.S. Airforce Airmen of Note. He is widely respected for his harmonic sophistication, superb command of the piano, and a broad stylistic palette. Wade has been a key pillar of the Washington jazz scene for decades. Enjoy your afternoon feasting on Chef Jacques' special four-course menu accompanied with classic brunch cocktails.
Au Revoir, Monsieur Georges
This month we recognize our long-time dining room manager and host, Georges Torchio. He began working at L'Auberge Chez François in 2001 and provided exceptional service to our guests and co-workers alike. He was always willing to help and made every customer feel as though they were a guest in his own home. In addition to his regular duties, Georges serenaded our guests every Bastille Day with the French national anthem, a true patriot for his home country. We will greatly miss Monsieur Georges and we wish him all the best for his well deserved retirement!
Monsieur François Competition
Congratulations to Douglas M. of Clifton, Virginia for winning the April Monsieur François Profile Embellishment art contest. Douglas will receive a $200 gift certificate to L'Auberge Chez François.
Be sure to follow L'Auberge Chez François on Facebook, Twitter, and Instagram for behind the scenes photos, specials, and more.

Best Culinary Wishes,
Chef Jacques
L'Auberge Chez François


332 Springvale Rd Great Falls, VA 22066
Read More »