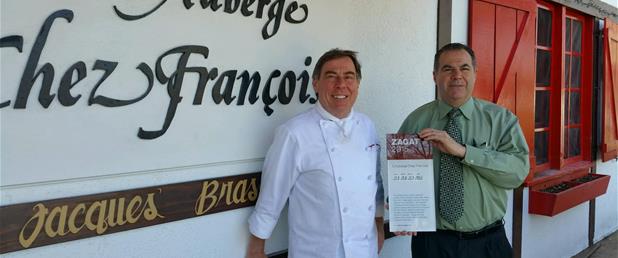 Greetings from Chef Jacques and Paul
Breaking news! L'Auberge Chez François is honored to receive another outstanding Zagat rating by our customers. In addition to the great Zagat news, L'Auberge Chez François has again been awarded the monthly OpenTable Diners' Choice! Thank you for your patronage and taking the time to provide reviews and comments on your dining experience at L'Auberge Chez François and Jacques' Brasserie. Merci beaucoup! 
We spent much of March spring cleaning and preparing for the warmer weather. We have painted the terrace chairs and tables and purchased new outdoor cushions for your dining comfort. We are mulching, landscaping and planting so that you may enjoy our beautiful scenery. We invite you to walk the grounds and visit our two large organic vegetable gardens. We are already harvesting ultra-fresh spinach to add to our salad mix and featured in the grilled shrimp and goat cheese salad. This is our Recipe of the Month and one of Chef Jacques' favorite healthy, leafy green vegetables (see below).
Read More »